Roomswalk
>
Children's room
>
Student's room – essential equipment and decorations
Student's room – essential equipment and decorations
You need about 4 minutes to read this article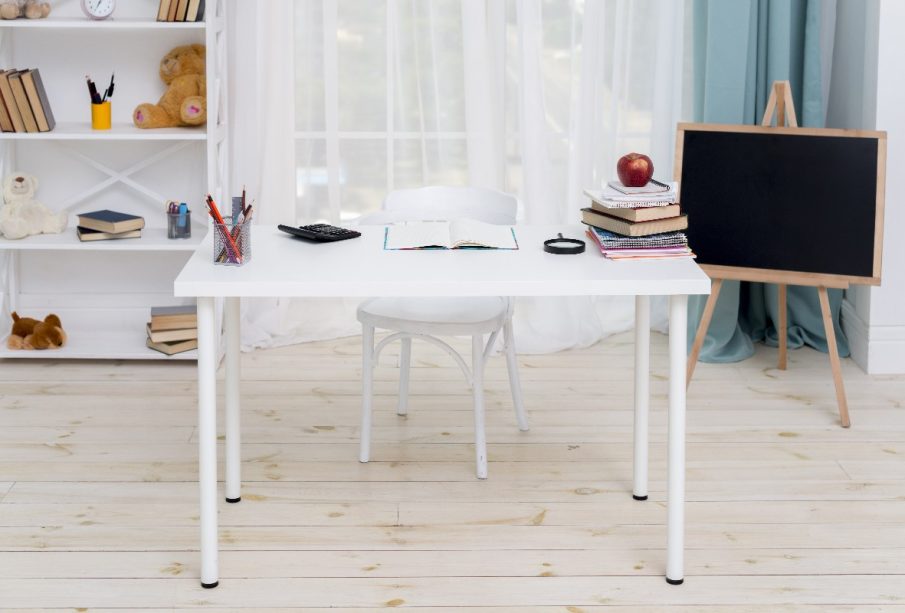 Is your child starting school? Prepare the student's room so that learning and pursuing their passions is pure pleasure. Besides, a well-organized space will allow you to store all the trinkets and office accessories. See how to furnish a student's room.
Desk – the most important piece of furniture in a student's room
Let's start with the most important piece of furniture in the student's room, namely the desk. It should be adjusted in size to the child's height, so remember that a piece of furniture for adults will not work out well here. For a first-grader, the height of a desk should be about 55-60 cm. The chair should be adjusted to it, of course. On the top of the desk you can not run out of space to comfortably lay out books, notebooks and accessories. You often also need space for a laptop, so it's best if the desk is about 70 cm wide and 55 cm deep
If you like practical solutions, choose an adjustable desk, which you can adjust to the growing child's height. At the same time, it will allow you to maintain the correct posture while writing
Organization at a desk is essential, so it's worth looking around for accessories that will make it much easier. A traditional bookcase? It is a good solution, but you can change it for a pedestal on wheels or an overhead cabinet. This one may be colorful and composed of modular elements, which will diversify the arrangement significantly.
Play area
Peers are bound to show up in the student's room and spend quality time together with your child. That's why think about special bags for sitting, a couch or a pull-out bed, on which others will also fit
Instead of traditional toys, think about those that are educational in nature. This is a great way to learn and develop your passions and skills. You can conduct a variety of experiments at home, assemble a robot, start growing plants, and even make your own weather station. These types of opportunities are provided by the educational toys you'll find at https://niecodziennegadzety.pl/zabawki-dla-dzieci.
Notes, trinkets and important matters – a private area
Starting school is often associated with a change of environment, growing up, new passions and developing your skills. That is why it is useful to have a place designated only for your child, where they can put their diplomas, cards with important notes or stickers. An organizer, a corkboard or a magnetic board will be great for this.
Lighting in the student's room
In the student's room there will certainly be peers and they will spend a pleasant time together with your child. That's why think about special seating bags, a couch or a pull-out bed that will accommodate others as well. It's also a great idea to put a couple of small chairs in front of a low bookcase, for example. On the one hand, it serves as storage, and on the other, you can play comfortably with your friends on its top.
If on a bookcase or a shelf there are important trophies or diplomas, it is worth highlighting them. LED strips or spot lights, such as those from the online store skleplamp.pl, will be perfect there.
Bed – a place of rest for a child? Not only
Bed in a children's room is not only a place of rest. Often important meetings take place there as well as talking to friends on the phone, reading favorite books or playing board games . That is why it should be functional and comfortable
A great idea is to place pillows over the bed, for example those attached to the curtain rail or upholstered panels. They will make spending time on the bed more comfortable.
An interesting solution are beds with special drawers where you can fit bedclothes or small items. Some models on the market are more elaborate, for example bunk beds have special steps, which are also drawers. Fashionable in recent seasons are beds, which resemble their construction of wooden houses. This solution will also work in the student's room. Just equip them with a comfortable mattress. This type of beds is offered, for example, https://mirat.eu/lozka-dla-dzieci.