Roomswalk
>
Children's room
>
Room for a soccer fan – how to decorate? Inspirations
Room for a soccer fan – how to decorate? Inspirations
You need about 3 minutes to read this article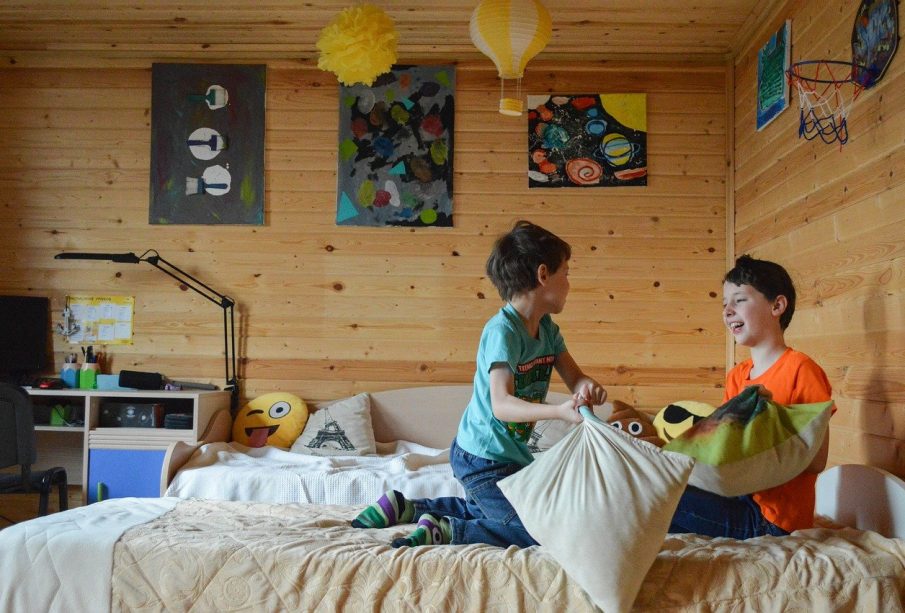 Children's rooms are governed by their own laws. Especially if we are talking about the rooms of children of preschool and school age. They already know what they want, what they are interested in and often have their own opinions
Usually boys choose a room in the style of football, and girls with animals in the lead role. Let's focus this time on a room for a soccer fan. Do you know how to arrange it?
The ball in the first place
In a room maintained in football style, there must be several elements – one of them is the ball motif, and the other is the color green, white and black. It's also best if there's a football player that the little occupant admires. Here are some football inspirations.
Starring on the pitch
Soccer is, of course, associated with the pitch. This theme can be used perfectly in a child's room. There are two ways – a carpet, on which you can play mini football matches or a mural on the ceiling. Both solutions are very impressive. Manufacturers have made sure that these elements are a perfect reflection of a real football field.
Comfortable pouffe in the shape of a ball
A perfect complement to the room of a small football player is simply a ball motif. You can use it and make a perfect corner for relaxation. The ball-shaped pouffe is not only comfortable and practical, but will certainly appeal to any amateur of football games.
Bed with a football motif
The focal point of a child's room is the bed. It is on it that many games take place, and on top of that, the most beautiful dreams are born. It can be arranged so that a young sports fan will feel in it like on a football field. Just buy bedding, preferably in shades of green, with a ball motif. Add to it decorative pillows, looking like a ball.
A perfect complement will be an unusual headrest. A football goal can be attached to the wall behind the bed. You can make it yourself – just a net, pieces of wood and paint – or buy it in the store.
Football lights and little lamps
To add atmosphere to the room, you can add lighting elements in the shape of a ball. You can choose from bedside lamps, chandeliers, desk lamps and even small battery-operated balls. Such a decoration can find its place on a shelf or in a corner for relaxation.
Photo wallpapers with football players
Your child doesn't talk about anyone else but his idol from the football field? Give him a surprise. Order a personalized photo wall mural with his favorite football player, preferably in an interesting pose, for example, while scoring a goal from a half-volley. It is important that it covers the whole wall, only then the effect will be electrifying. Such a wall mural can be additionally illuminated by LEDs placed on the ceiling.
Ball – desk chair
A swivel chair for a desk can have different motifs. It is important that it is comfortable, of course, but it can also be pretty. A chair on wheels in the shape of a ball is just such a chair.
Accessories with your favourite team motif
A tote for school utensils, a protective mat for the desk, a rug under the feet – all these elements can contain the logo or the colors of your child's favourite football team. Certainly, such accessories will bring joy and will look great in the footballer's room.
Main photo: Victoria_Borodinova/pixabay.com