Roomswalk
>
Bathroom
>
How to hide pipes in the bathroom?
How to hide pipes in the bathroom?
You need about 4 minutes to read this article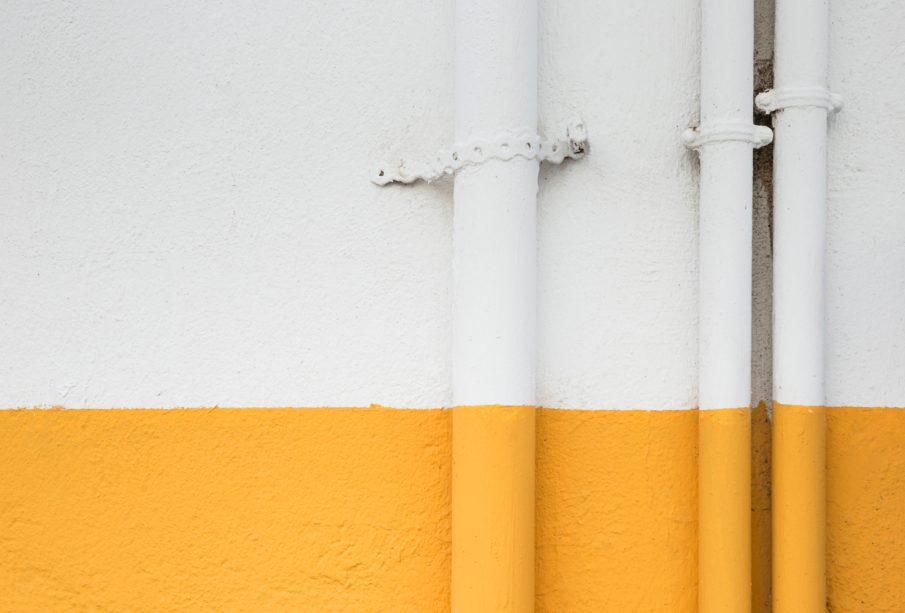 You want to renovate your bathroom and are wondering what to do with unsightly pipes? How can you hide them? If you decide on a bathroom with an industrial style, the exposed pipes can become its asset.
Protruding pipes are a problem in old buildings
Pipes sticking out of the walls are very noticeable and they are a huge bane in old buildings' apartments. In the past, no attention was paid to how the pipes run. It was treated as a quick access to the installation in time of failure. Unfortunately, this is the only advantage of this solution.
6 ways to hide pipes
1. Plasterboard
Covering the pipes with plasterboard is one of the most popular methods of hiding them. For the bathroom you should choose green waterproof boards. By encasing the pipes with them, you can create a smooth and simple surface that can be arranged in any way you like. If the bathroom is small, then the plasterboard hiding the pipes can make it smaller. This practice seems on the surface to make no sense, but it will facilitate the arrangement of a small bathroom.
Installation of plasterboards is very simple. They are mounted on special frames with screws. The joints of the boards are masked with tape. Plasterboards also have other forms, for example arches. Thanks to that in the bathroom you can create a unique atmosphere.
When hiding pipes behind plasterboards, remember that plasterboard development is not advisable in places where access is supposed to be easy. In their case it is worth to choose screens mounted on magnets. Steel pipes, which are to be encased with plasterboards, must be previously protected with anti-corrosive paint.
2. Furniture inlay
Furniture cladding works best in corners or near the floor. If the bathroom furniture is to cover unsightly pipes, order it from a carpenter, who will make it so that the pipes are not visible.
3. With the help of a frame
Pipes can also be hidden with the help of a plumbing rack. This allows the wash basin to be positioned anywhere in the bathroom.
4. Using pre-wall systems
Pre-wall systems are a very popular solution in modern building construction. They are installed before the tiles are laid on the wall. There are two types of frames: for light building (they are covered with plasterboard) and for heavy building (they are designed to be walled in the wall). The choice of the type of frame depends mainly on technical conditions, execution time and the available budget. This solution is mainly used for compact WCs.
5. Painting with paint
Painting the pipes the same color as the wall is an old and well-known method. However, it has one disadvantage: the pipes are still visible, although they do not stand out so much. In the industrial style, it is worth emphasizing the pipes, painting them in steel or copper color. In a Scandinavian bathroom, it is worth painting the pipes white or gray color, and in an ecological bathroom, you can wrap such a pipe decoratively with a rope.
5. Curtain
Decorative curtains will work especially well in those bathrooms, where the pipes run around the window. Another alternative to curtains are openwork walls or screens – they are a great distraction, giving the bathroom an interesting character.
6. Suspended ceiling
Suspended ceiling is very aesthetic, it suppresses noise, is light, you can install in it interesting halogen lighting. If the pipes run along the ceiling, then with the help of a suspended ceiling you can hide them very aesthetically. Suspended ceiling is ideal for the bathroom, if it is made of waterproof plasterboard. For safety reasons, only gas pipes are not covered with it.