Roomswalk
>
Bathroom
>
Glossy or matte fronts for the bathroom? See the trends
Glossy or matte fronts for the bathroom? See the trends
You need about 4 minutes to read this article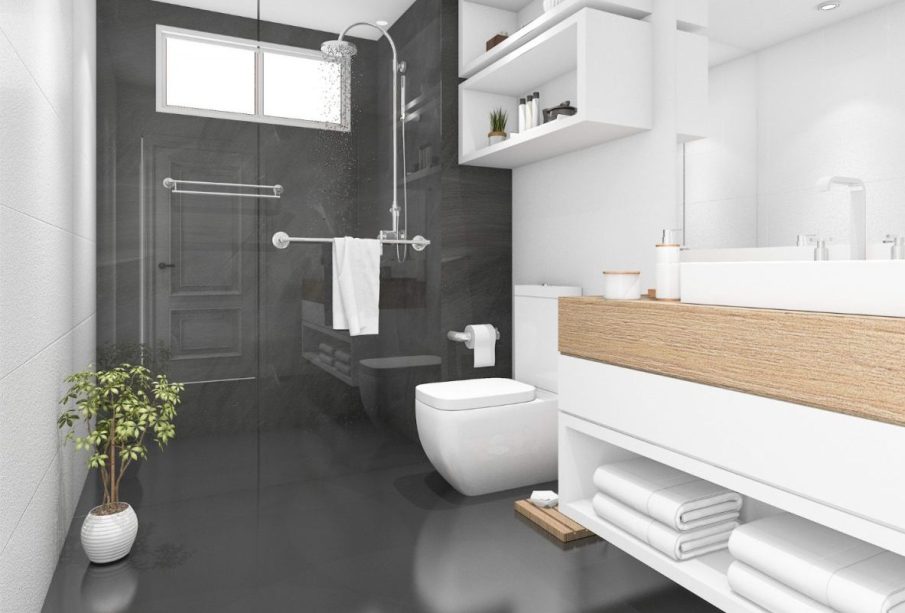 The finishing stages during a bathroom renovation are often laborious and filled with amendments. This happens when the placed elements, which we have previously chosen, however do not meet our expectations
In our mind the project looked completely different and when we realize that this is the interior we will have to look at for many years, we break down. How to properly choose furniture in the bathroom?
Renovation is an absolutely painstaking and lengthy process. It requires incredible patience on the part of owners and workers. The interior must meet all expectations, which, after all, are high. In addition to the functional part, the bathroom has to be pleasing to the eye and cozy for the user. The determination of both parties is at stake, and any mistake can cost a lot of money. Every element has to be right, starting from the shape of the taps, their finish, the decoration of the tiles or the furniture placed in the bathroom.
>> See also: How to hide pipes in the bathroom?
A conscious choice
Furnishing the bathroom should certainly be just a pleasure that we leave for ourselves at the end, as the icing on the cake. Unfortunately, in practice it turns out to be quite a challenge for people who are not familiar with interiors
In addition to the practical function of furniture such as storage for towels or laundry basket, the decorative function is indescribable. Properly selected cabinets help us maintain order in the bathroom, not allowing disorganization of space. Wisely chosen furniture will strategically place and hide our toiletries from view.
Every family is different and each has different needs. Singles will only need one shelf to hold bathroom items, while a family with children will need many more. It's up to you which solution you decide on. What decorating style appeals to you? A combination of functionality and a nice looking space is best. You can choose furniture with a matt or glossy finish – which works better?
Gloss fronts
If you own a small bathroom, furniture with a reflective coating is a good choice. This kind of interior organisation will make the light coming from behind the window reflect off the coating and make the bathroom seem bigger.
In addition, this is a solution for fans of luxury and modernity. The three-dimensionality that you will get, arranging the space this way, will surely delight you. An unquestionable advantage is a wide choice of colors, which will suit many arrangements.
Unfortunately, you should take into account that choosing this form of furniture, you will have to clean the surface more often. The mirror coating reflects light in an elegant way, but it also highlights any fingerprints. Unfortunately, there is no way to protect the furniture from dirt, which makes it an option for people who like tidiness. Fortunately, you can also avoid this problem by opting for hidden, convenient handles.
Fronts in matt
If you value closeness to nature and plan to place floral motifs in the interior, furniture with such a finish will be a good decision. They will bring peace and harmony to the room, interacting fantastically with browns. Matt is undoubtedly an elegant and classic solution. Despite its simplicity, it will never go out of fashion and works well in any environment. It goes well with glass and wood. It is a good decision if you do not care about using space-enhancing tricks. If you have a small bathroom, furniture in light shades will definitely be better
An undeniable advantage is matching matte mixers with the furniture. Mats are easier to keep clean – just wipe them down with a damp cloth from time to time. Are you planning a Scandinavian-style bathroom? In combination with blue accessories, mat fronts will be a hit. They also go well with wood and bamboo decorations, which will certainly not be missing in your dream bathroom.