Roomswalk
>
Around the house
>
Front doors – everything you need to know about them
Front doors – everything you need to know about them
You need about 4 minutes to read this article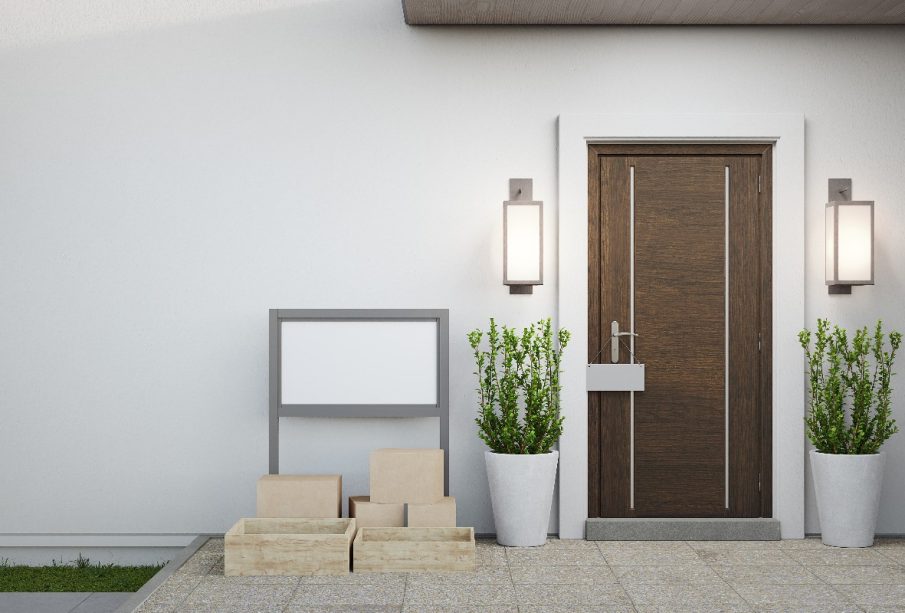 Exterior doors are the showcase of any home, so they should be functional and aesthetically pleasing. What is the best material for exterior doors?
Ideal front door – what kind of door?
The front door is the showpiece of any building, so it must be aesthetically pleasing and match the style of the house. When buying it is worth to pay attention to its resistance to weather conditions.
Thermal insulation is another important factor when buying exterior doors for your house. They must protect against heat loss. From 2021, exterior doors must have a heat transfer coefficient lower than 1.5 W/(m2.K). Proper installation of the door and frame is equally important, because improper installation can contribute to the formation of thermal bridges and even moisture in the building.
Exterior doors should have good acoustic insulation. Noises coming from the street or from the staircase may cause discomfort to the household members.
Entrance doors have to protect people against entering of unauthorized guests. In the offer of many manufacturers you can find anti-burglary doors, which are aesthetically pleasing and have proper thermal and acoustic insulation.
Exterior doors in the construction law
The parameters of exterior doors are specified in the construction law. Exterior doors must have a height of at least 200 cm, and a width of min. 90 cm. If the exterior door is double leaf, one leaf must be at least 90 cm wide. Regardless of the law, exterior doors should be made of weather-resistant materials.
Material for the front door
When choosing an entrance door for the house, you should consider the material from which it is made.
Wooden
Wooden exterior doors are made of domestic coniferous species of pine and spruce, deciduous trees: oak, ash, beech and exotic tree – mahogany. From domestic species of trees the best for external doors is oak, which is very durable and hard. Unfortunately oak doors are one of the most expensive doors available on the market.
Wooden doors have good thermal and sound insulation. Wood is easy to process, so you can easily change its color for example: using stain or varnish. Wooden doors are expensive, although they are cheaper than steel ones. In stores you can find cheaper alternative for wooden doors, that is exterior doors made of MDF or HDF. Doors made of wood-like materials are less durable.
Wood exterior doors go with any style and color of building – they are versatile. There are entry doors with glazing and rich ornaments available in stores. The main disadvantage of wooden exterior doors is poor resistance to moisture. Wood under the influence of moisture shrinks and loses its elasticity. This material is very susceptible to mold and mildew. Wooden doors also require regular impregnation.
Steel
Steel exterior doors are durable. They are manufactured from steel profiles or galvanized steel sheets. Metal doors can be painted or covered with wood-like panels, foil. They are filled with polyurethane foam. The main disadvantage of these doors is their high weight.
Aluminum doors
Aluminium doors are insulated with foamed polystyrene, mineral wool or polyurethane foam. The door frame is made of anodized metal. Aluminum doors have good sound insulation and are durable. Their disadvantage is low resistance to damage and deformation.
PVC
PVC entrance doors are very popular due to their low price. They are made of reinforced multi-chamber profiles. Doors made of this material are filled with foamed polystyrene or mineral wool. The main disadvantage of these doors is the lack of repair in case of damage.
Anti-burglary
For security, it is advisable to opt for anti-burglary doors that are manufactured from wood, steel and aluminum. Such doors should be additionally secured by e.g.: bolts or additional locks. For better protection a metal threshold is mounted to such door.